How To Choose The Supplier Of Insulated Water Bottle ?
Many purchases will feel distressed when choosing the supplier of insulated water bottles. How to choose an insulated water bottle factory with a stable supply capacity and excellent quality is a big question. Because many foreign trade procurement activities do not have the conditions for factory field visits. The vast majority of insulated water bottles purchases will find vacuum water flask factories as their partners through large B2B platforms or Google search.



However, there will be many potential questions in the selection of such insulated water bottle suppliers.
First: It is difficult to judge whether the supplier is a manufacturer or a trading company
Although you can find many manufacturers of insulated water bottles labeled as factories on B2B platforms, not all B2B platforms have the ability to review manufacturers' qualifications. There are many trading companies disguised as vacuum water flask factories, trying to gain the trust of purchases with false information. Once there is a problem in their supply chain, the vacuum water flask you purchase will face various delivery problems.


Second: False transaction information on the B2B platform will interfere with the selection of insulated water bottle suppliers
As you know, many B2B platforms recommend suppliers based on their transaction amount and service evaluation on the platform. Therefore, many factories that do not have the supply capacity of excellent vacuum water flask will create the illusion of good delivery capacity through various false transaction orders. Many purchasers mistakenly believe these false data, so it is difficult to find those really suitable insulated water bottle manufacturers.


Third: Google search is not everything
Google search engine arranges and sorts the information collected based on a variety of ranking dimensions. This has led to some vacuum water flask suppliers whose actual production and manufacturing capacity is not excellent. Relying on the excellent Google SEO team, they rank their website information on the first page of Google search. We need to understand the truth: the top ranking of Google search is not equal to the top ranking of production and delivery capacity.
As a manufacturer of insulated water bottles, their core advantage lies in the management of vacuum water bottle quality and the improvement of vacuum water flask performance. Many enterprises of this type do not have a strong marketing team. Therefore, it may be difficult for vacuum water flask purchases to find those insulated water bottle factories with good supply capacity in the top results of Google search.


Fourth: The glow of the insulated water bottle well-known brand is actually a industry shadow
Thermos, TIGER, Zojirushi, YETI, HYDRO, and other brands are the top stars in the insulated water bottle market. Their product quality is really great. But many people may ignore the question: does a vacuum water flask with the logo of the above brand have to be produced by these companies?
As a factory with many years of manufacturing experience in the vacuum water flask industry, we can responsibly tell you that many well-known brands of insulated water bottles are not produced independently by brand companies. They often choose several vacuum water flask factories for OEM customization in the origin of thermos water bottles. Although there are certain quality acceptance standards for thermos water bottles, there will still be large product quality differences in the same batch of products.
For example, although our company does not have its own independent brand, we have a history of cooperation with the above thermos brand. In other words, we are the real manufacturer of the whole thermos water bottles supply chain, not these thermos water bottles brands. Only because of the existence of these brands, does it seems that the thermos cup manufacturing factory like us is silent.




How to identify and select the really excellent supplier of insulated water bottles?
First: View the government registration information of the supplier
When you find a reliable supplier of thermos water bottles, you can ask them to provide the Chinese registered name of the enterprise. Then in the national enterprise credit information publicity system( http://gsxt.amr.gd.gov.cn )Enter the Chinese name of the company to query. Note: you need to select the province where the company is located, otherwise the corresponding query result will not appear.
You need to focus on the basic information, administrative penalty information, and relevant abnormal information of the company (as shown in the figure below). If the company has a record of being punished, it is not recommended that you choose the company as your insulated water bottles supplier.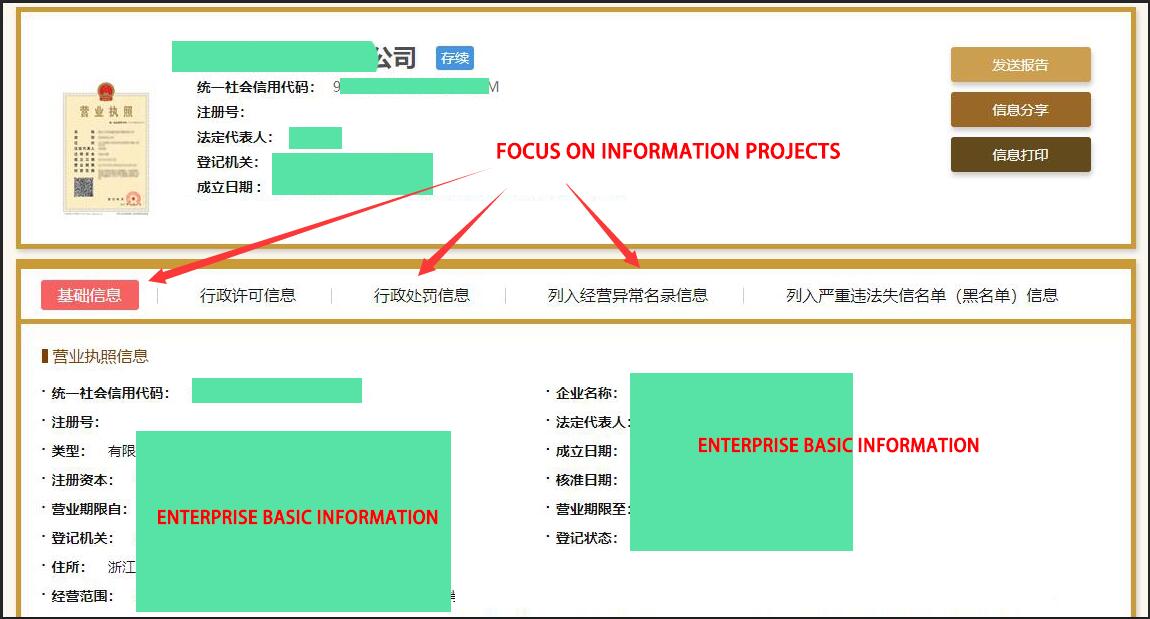 Second: Product test report
If an insulated water bottle supplier is engaged in foreign trade export business, in theory, they should have products test reports, such as TUV, SGS, etc. Although these test reports are only for the quality of a certain batch of vacuum water flask. But to some extent, it also shows that their insulated water bottles can stand the test of international third-party independent quality inspection institutions.
As suppliers of insulated water bottles, due to the randomness and irregularity of sampling inspection, they need to maintain strict quality management of vacuum water flask at all times in the process of daily production and manufacturing of thermos water bottles. The more product quality test reports they can produce, the more foreign trade times they have, and the more favored they are by insulated water bottles buyers.



Third: Real-time video communication
Real-time video communication can discover the real situation of many suppliers. When you communicate with your insulated water bottles supplier and ask for real-time photography of the factory's manufacturing process. If he is a trading company, it is obviously impossible to be in his supplier's workshop all the time. Then such a trading company may not be the partner you really want.
If you can see him in the workshop every video communication and introduce the functions of each machine in the manufacturing workshop of the whole factory to you in detail, then this partner must be a very dedicated business person. He is worthy of you to place more orders for the production of insulated water bottles.



Fourth: Field investigation on the origin of thermos water bottle
We all know that the production of insulated water bottles needs many links to cooperate, including the processing of stainless steel raw materials, the production of plastic accessories, the spraying of vacuum water flask indicating paint, the logo printing of water bottles body and so on. If you have time and a relatively adequate budget, you can come to Guangdong and Zhejiang, China, where there are the best industrial areas for the centralized production of insulated water bottles.


You can go deep into these factories for field investigation. Don't worry about being rejected. Chinese factories are very hospitable. They will warmly welcome every guest, even if you don't necessarily place an order for the insulated water bottles. Through field investigation, you will understand the different technical strengths and manufacturing capabilities of each insulated water bottles manufacturer.


Although such a field visit to the vacuum water flask factory costs more time and energy, it is very worthwhile compared with the follow-up long-term and stable cooperation!


The above is all about how to select the supplier of insulated water bottles. In this article, we analyze the problems existing in the common way of selecting the supplier of vacuum water flask, and how to correctly select the supplier of vacuum water flask. I hope these methods can help you find the most suitable supplier of thermos water bottles. If you want, we are very willing to be one of your cup suppliers!